The Importance of Ultrasound Interpretation in Early Pregnancy
In this educational session, Dr. Hema Nosib; Consultant Obstetrician and Gynaecologist at North West Anglia NHS Trust, Huntingdon will discuss the importance in the interpretation of the ultrasound examination in early pregnancy.
This webinar will look at the 2D imaging characteristics of both normal and ectopically sited pregnancies. Additional pathologies, recognised in normally sited pregnancies, will also be included. Dr. Nosib will discuss the important subject of applying the findings, identified during the ultrasound examination, to the clinical context of the patient.
This Ultrasound educational talk offers 1 CPD credit.
Speaker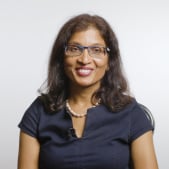 Dr. Hema Nosib
Consultant Obstetrician and Gynaecologist
North West Anglia NHS Trust, Huntingdon
Course Information
In the role of the ultrasound in early pregnancy, by the end of this webinar, delegates will recognise the importance of:
Interpreting images in the context of the clinical history of the patient;
Recognising non-pregnancy related pathologies;
Interpreting the examination correctly, using case-based examples for discussion.
Once you have watched this session, you will be invited to submit feedback in order to gain your CPD certification.  Once complete, your certificate will be available to download via your profile area.
This educational talk was created on 21st September 2021. All information contained in this session was correct at the time of distribution.
Disclaimer: Appearing on the Medical Imaging Academy does not represent a commercial partnership or interest from the speaker. The views herein do not represent the views of Canon Medical Systems Ltd.