Ultrasound of the Spleen: Incidental Findings, Pearls and Pitfalls
In this educational session, Dr. Simon Freeman, Consultant Radiologist at the University Hospitals Plymouth NHS Trust will discuss ultrasound of the spleen.  This lecture will focus particularly on the incidental findings associated with this organ, often encountered in everyday ultrasound practice. Dr. Freeman will also identify some pearls and pitfalls when dealing with splenic lesions.
As splenic pathology is quite unusual, it is not often see in clinical practice. As the majority of splenic lesions are benign, this session will look at how important it is not to over-call them and recommend further unnecessary investigations, often resulting in patient anxiety.
This Ultrasound educational talk offers 1 CPD credit.
Speaker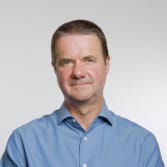 Dr. Simon Freeman
Consultant Radiologist
University Hospitals Plymouth NHS Trust
Course Information
By the end of this session, delegates will be able to:
Develop an understanding of splenic pathology as an incidental find;
Demonstrate an appreciation of the importance of pre-test probability, previous imaging, clinical and laboratory findings;
Demonstrate an understanding of the value that Contrast Enhanced Ultrasound (CEUS) can add to a standard splenic examination;
Recognise and correctly characterise ectopic splenic tissue;
Develop a management strategy for incidentally detected lesions and demonstrate an understanding of the value of this imaging modality in triage;
Advise when to recommend further imaging or biopsy.
Once you have watched this session, you will be invited to submit feedback in order to gain your CPD certification.  Once complete, your certificate will be available to download via your profile area.
This educational talk was created on 5th October 2021. All information contained in this session was correct at the time of distribution.
Disclaimer: Appearing on the Medical Imaging Academy does not represent a commercial partnership or interest from the speaker. The views herein do not represent the views of Canon Medical Systems Ltd.