Wessex Diagnostic: Vascular Ultrasound Imaging Course
Tuesday 19th October & Wednesday 20th October 2021
Location TBC
£520.00 including VAT, lunch and refreshments.
*Please note these dates are subject to Government guidelines*
Register today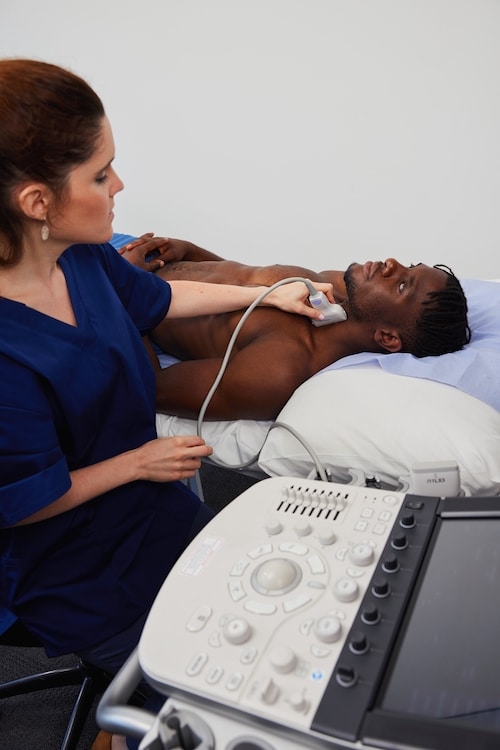 Course Description
An intensive 2-day course on the application of duplex, pulsed wave, colour and power Doppler techniques in the investigation of the abdominal, extra and intra-cranial and peripheral vasculature.
Wessex Diagnostic and Canon Medical Systems are working in collaboration to provide a comprehensive combination of lectures, demonstrations and workshop sessions. These are designed to cover both the basic principles of these techniques and a review of the current state of ultrasound arteriography and venography.
Each clinical lecture will cover the following topics:
Normal vasculature and variants
Examination protocols
Diagnostic criteria
Case histories
Pitfalls in interpretation
EVLA ultrasound guided simulation with phantom
Read and download more about the event
DAY ONE:
Morning session: Basic principles/Extra- and intra-cranial vessels
Basic principles of Doppler ultrasound
Extracranial vasculature
Intracranial vasculature
Atherosclerotic plaque composition and dynamic
Practical Session l: Extracranial vasculature
Afternoon session: Abdominal & peripheral arteries
Lower limb arteries
Aorta and main branches
Haemodialysis
Stent and graft surveillance
Practical Session ll: Peripheral vessels – arterial
DAY TWO:
Morning session: Special Topics: venous
Lower limb deep venous system
Superficial venous system
Upper limb vasculature
Practical Session lll: Peripheral vessel venous
Afternoon session: General
Ultrasound imaging in surgical procedures
Doppler Ultrasound: artefacts and errors
Practical Session lV: Open
Don't miss out, register today.